Thursday, 1st August, 2013 | By Tara Hornor | Category: Website Design and Development
10 One-of-a-Kind E-commerce Websites That Put Ordinary Sites to Shame
This collection of creative e-commerce websites includes those that take a unique approach to creating a storefront, and each are discussed in light of what makes their creative designs work so well.
Hopefully, you too can find some inspiration in the collection below to help you in your own e-commerce website designs. Which of these made a big impression on you?
Mom and Popcorn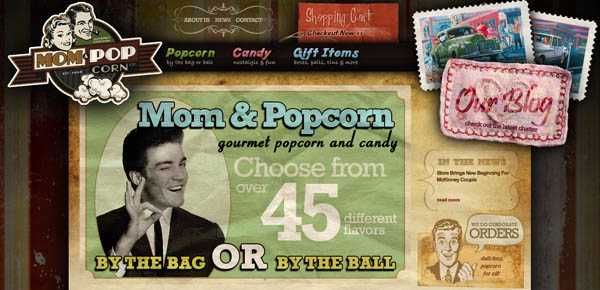 This vintage website is a very unique experience in that it jumps off the page and makes you forget what decade you are really in. Although not the typical clean cut design of most popular e-commerce sites, it remains easy to use and bursts with creativity. It is very easy to find what you are looking for and the prices are prominent. You don't have to click around aimlessly to figure out what to do next. Five stars for Mom & Popcorn!
The Affair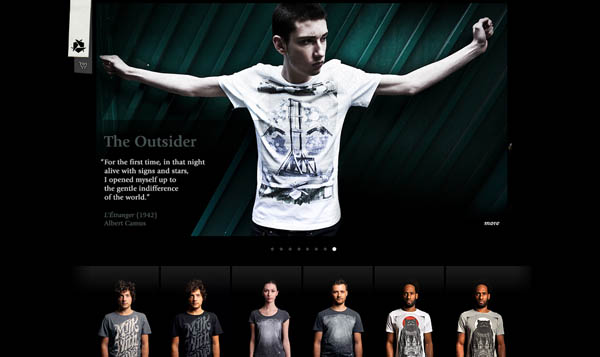 The Affair is a UK based, offbeat clothing company that makes no apologies; neither for its darkness and morbid atmosphere, nor for its unique shopping design. Although simple and uncluttered, it is anything but standard. For one thing it has a discreet but impossible to miss shopping cart link in the corner. When an item is added to the cart, there is an animation of the selected item dropping into the shopping cart. This is a great touch because so often people click several times to be sure their selection was made and end up with too much in the cart at the end. With The Affair's unique concept, there is no confusion. Another useful feature is that each product's thumbnail offers a 360 degree view so you can examine it from all angles. It's these details that make all the difference.
Storenvy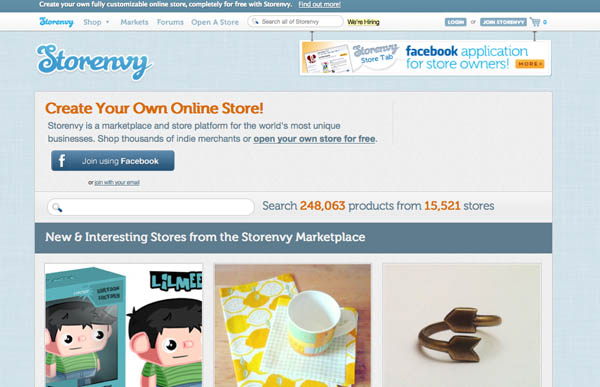 Storenvy is ingenious, both in concept and in execution. It takes social networking, Etsy, and Pinterest and combines them all into one with an interface as easy to use as Blogspot. It allows users to create their own store to sell stuff, or to buy by browsing hundreds of items from different sellers at once. It is able to pack a lot of information and products into a small space without getting cluttered or confusing. It comes with a built-in store creation wizard to make it super easy to get out there and sell your goodies. I only wish I had thought of it first!
Saddleback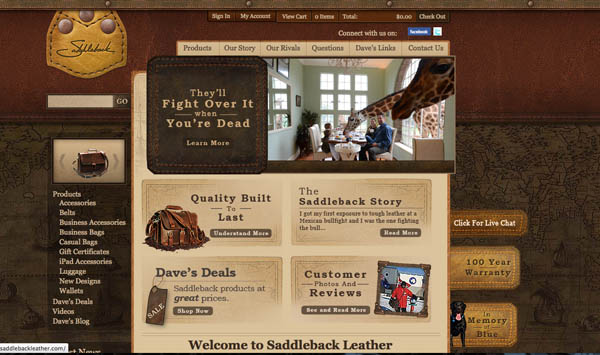 Saddleback is a beautifully and meticulously designed website that sells all types of leather products. Every element of the site contributes to its design, which is a breath of fresh air from other designs that can be weighty and cluttered, even if nice looking. The attention to detail is what makes this rich site still completely practical and usable. One particularly nice touch is that it includes a list of the sites of their business rivals, making it easy to see that Saddleback is the complete package.
Heartbreaker Fashion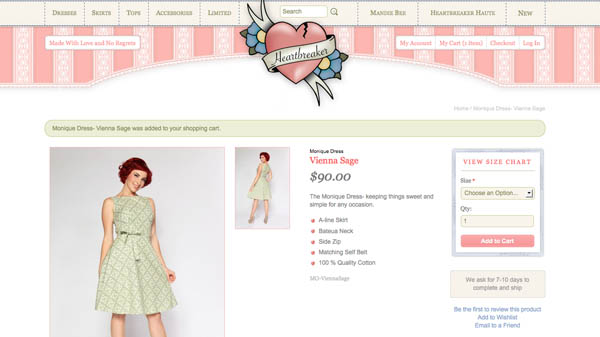 Heartbreaker has a pleasant design with a good use of patterns and textures, which is what makes it different from other creative e-commerce websites. The trend has been to avoid patterns because they can distract shoppers from the product. When done right, however, it can really enhance the store front. Heartbreaker also has a handy shopping cart box in the footer of the site as well as the top. Even though it breaks the mold, it is still very user friendly, and even stronger for it.
Oi Polloi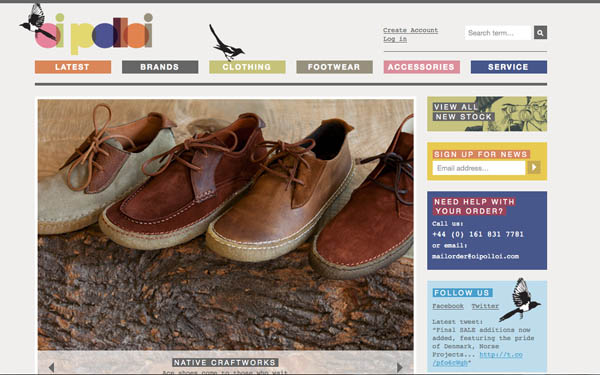 Oi Polloi is a retro site that sells clothes and footwear. It is surprising to find that it does not have a shopping cart immediately available – only once an item is selected does a shopping cart (here called a "Basket") descend as an overlay to the site, showing exactly what you bought, what size, and how much it is, as well as a subtotal. So there is not a separate page for the checkout, which is quite efficient in my opinion. Never be afraid to reinvent the wheel!
A Modern Eden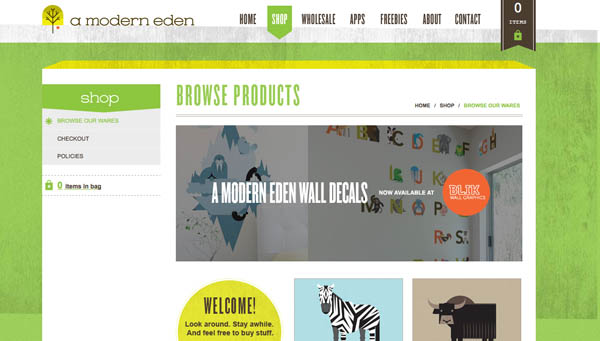 A Modern Eden sells prints, decals, and stuffed animals with strange angular designs. It makes use of trendy colors, and where normally the bright green background would be tacky or distracting, in this usage it is not only appropriate but adds greatly to the fun and feel of the site. The ribbon highlighting the shopping basket icon is a very nice touch as well.
Patrick Ervell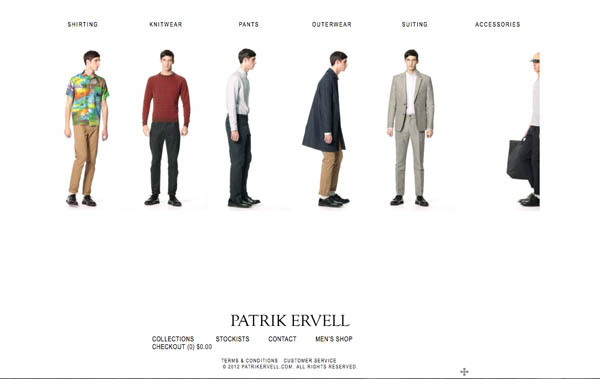 Patrik Ervell sells fashionable men's clothing with a really cool twist. Where expensive men's clothes can often appear stiff or uncomfortable, this site helps guys envision themselves wearing the clothing, with use of live moving models with every product! Normally this is a huge no-no. Animations can quickly become a very bad idea, especially if there is more than one moving item per page. But Patrik Ervell accomplishes it beautifully, with a sterile white background and simple, concise text only interspersed where necessary.
Marie Catrib's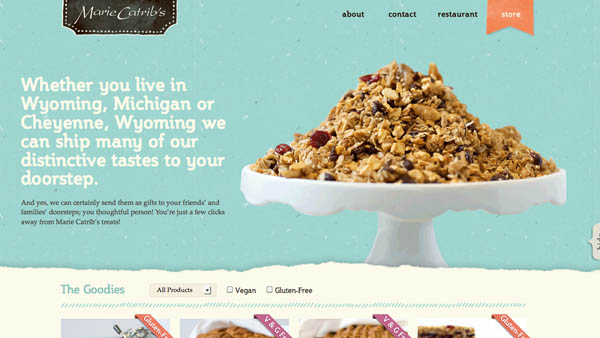 Marie Catrib's uses vivid pastel colors; friendly, bold text; and interesting dotted lines and patterns to make the pastry and bread products come alive. Some unique elements include the ability to search by vegan or gluten-free, a toggle button to hide half the website to focus on browsing, most information in the footer, and having ALL the offered products on the home page of the site. Simple, easy to use, and captivating.
Brand Neusense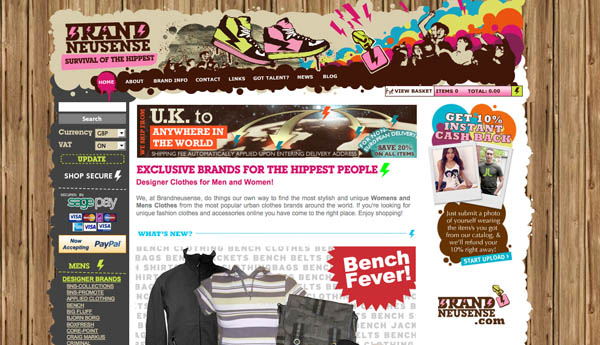 Brand Neusense breaks a lot of rules by being too crowded, having too many colors, and incorporating too many animations – yet, somehow it all works. First of all, the models look like real people, not – for lack of a better word – models. Even more so, though, this creative e-commerce website stands out because the homepage focuses more on the various brands it sells and on ads than it does on its product. It is designed thoughtfully for its target market, and that's all you can ask of a web designer.
So whether you have an upcoming creative e-commerce website design project coming up or you need to revamp your e-commerce site design, use the examples above in your decisions. Doing your research and noting what others do right (or wrong) is one of the best ways to create a website that puts ordinary to shame.
Tara Hornor
Tara Hornor has a degree in English and has found her niche writing about marketing, advertising, branding, web and graphic design, and desktop publishing. She writes for PrintPlace.com, a company that offers color printing for business cards, printed catalogs, posters, brochures, custom postcards, and more printed marketing media. In addition to her writing career, Tara also enjoys spending time with her husband and two children. Connect with Tara on Twitter @TaraHornor.