Tuesday, 1st July, 2014 | By Kimberly Barnes | Category: Public Relations and Social Media
The Next Evolution of Social Media Integration
A few years ago, when brands first began wading in to test the waters of the social media pool, the concept of social media integration was very straightforward and simplistic: add icons linked to your company's social media profile pages on your website, and consider the job done. The message to visitors was, "Like what you see here? Please come join the conversation happening on our company's social outposts!" And as brands continued to jump on each new social bandwagon that came along – YouTube, Pinterest, Instagram, etc. – the once-standard three buttons became four, then four became five and so on.
Shortly thereafter, brands discovered the benefit of serving content across multiple sites in the name of message continuity. The advent of social media management tools like Hootsuite and Tweetdeck set this activity on fire, as marketers began exploiting newly available scheduling tools to republish content to all their profiles with the click of a single button, with no regard for tailoring their message to the culture and syntax of each platform and audience. And this run-of-the-mill, low-quality content made its way back to these companies' websites as embedded Twitter and Facebook feeds – all in the name of integration.
And customers noticed.
Actually, everyone noticed. Because this robotic, efficiency-driven method of social media integration began to strip these platforms of their primal social element — the very reason why sites like Facebook, Twitter and Instagram are so popular in the first place. So with a little push from Google, Bill Gates' postulation, "Content is King," became every marketer's buzz phrase. Companies began pouring big dollars into developing relevant, original content in every arena, from sharable blog posts and traffic-driving SEO landing pages to viral videos — each fighting for a just few fleeting seconds of consumers' precious attention.
As companies started to find their footing, they realized success in social media demands integration through and through – not at the superficial level of icons and links but at the very core of a company's business growth efforts. Rather than treating each marketing medium (e.g., television, radio, email, pay-per-click, social, etc.) as existing within its own self-contained silo, social should be seamlessly interwoven throughout the brand's marketing initiatives in ways that are a natural fit with how real customers think, behave and make decisions.
When done well, social media integration steps inside and outside the four walls of the Internet fluidly, supports customer engagement while maintaining the social integrity of the platform and, inevitably, drives sales. Here are a few excellent examples of companies who are doing it right by today's standards:
Well that's Pin-teresting
Recently, Banana Republic sent out an email blast that combined the best of social media, direct marketing and e-commerce into one cleverly crafted campaign.
Subscribers to the company's mailing list received an email message featuring images of customers' most-pinned styles. Within this email was a link that took recipients to a dedicated landing page on the brand's own website where they could shop these looks, creating a direct, distraction-free path between email, website browsing and checkout, greasing the gears for a quick and easy purchase decision.

Smartly, Banana Republic executed these promotional efforts in the other direction, too. Their Pinterest profile includes a board of most-pinned styles, each of which of course links directly to the item featured in the pinned image for interested buyers to purchase from the website.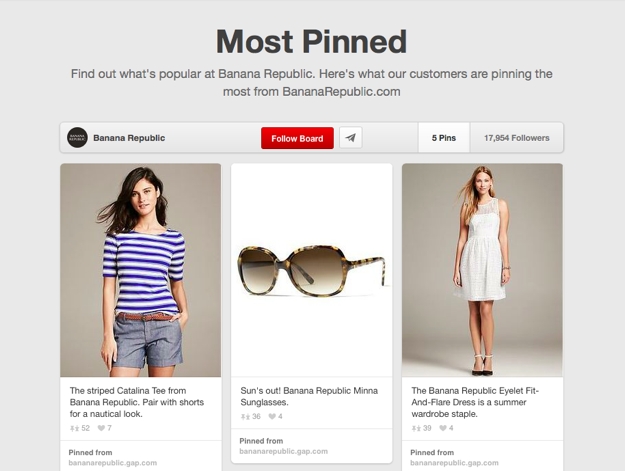 This creative campaign not only integrates the company's social media, email and e-commerce efforts, it also capitalizes on a key psychological motivation for the fashion-minded by giving them insight into what's on their fellow shoppers' wish lists so that they, too, can be seen sporting the season's most-wanted looks.
Tweet to eat
If you've got a fanbase that's actively engaged in talking about your brand on social media, it begs the question: how can you take advantage of their promotional activities to reach a broader audience?
The answer: integrate your social media campaigns into your traditional marketing efforts. Case in point: Panera's highly successful #PaneraFaves campaign.
Over the past several months, Panera Bread has been encouraging customers to share photos of their favorite menu items on Facebook, Twitter and Instagram – providing added incentive by giving those who participate a chance to win Panera gift cards.
While this initiative provides great value on its own by prompting fans to promote the brand to their own friends and followers, Panera has taken this campaign to the next level, running national TV spots that feature these #PaneraFaves tweets and pics.
The strengths of this TV campaign are multifold, as they position Panera not only as a brand that pays attention to its customers and their opinions but one that is well loved by those customers, too.
Add it now, buy it later
In May 2014, Amazon launched a feature that lets Twitter users add items directly to their Amazon cart simply by typing a hashtag.
First, the user must connect their Twitter account to Amazon. Then, anytime they see an Amazon product link on Twitter, replying to that tweet with the hashtag #AmazonCart — or #AmazonBasket in the UK — adds the product to that user's shopping cart, where it will be ready and waiting for them to purchase at their convenience.
This stroke of marketing genius essentially turns Twitter into a retail pipeline for Amazon, extending the reach of the e-commerce giant beyond its own website to the social hubs where its customers live and talk about products day in and day out. In doing so, Amazon is also wisely fending off the rising threat of social networks transforming into social commerce outlets in their own right.
While there is still a learning curve for customers and a few technical kinks to work through, Amazon's "add it now, buy it later" concept clearly has tremendous potential to shape the future of social commerce.
As seen on TV
Also in May 2014, TaylorMade partnered with Chirpify, a marketing conversion platform, to host a live sweepstakes for their SLDR S golf club during the CBS broadcast of the PGA Byron Nelson Championship. Using their #actiontag (#DistanceforAll), anyone could enter for a chance to win the SLDR S or a trip to the US Open.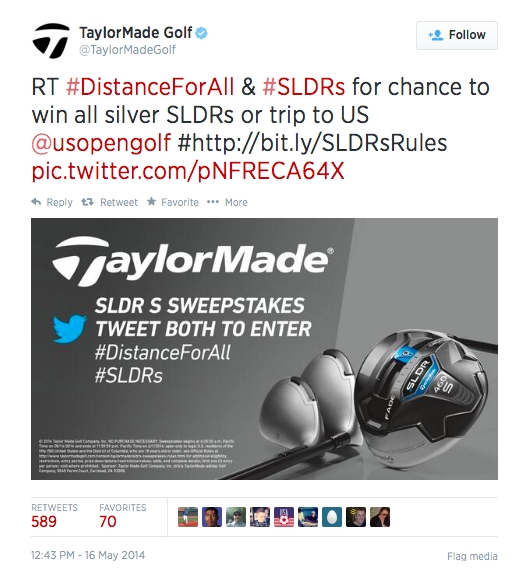 According to Chirpify, "55 percent of people who saw the message on TV and responded to the sweepstakes on social completed the registration." This 55 percent conversion rate is nothing to scoff at. It means social is no longer limited to merely reflecting engagement. Instead, it can be used as a clear and defined component of the sales funnel — exactly the kind of approach to and innovative use of second screen and social that defines the next stage of evolution in social media integration.

Kimberly Barnes
Kimberly Barnes is a digital marketing specialist turned freelance writer born back when Apple was called "Apple Macintosh," floppy disks were actually floppy, and #2 pencils were the best way to rewind unraveled cassette tapes. Most days you'll find her summoning her muse while drinking a non-coffee beverage in Starbucks.