Sunday, 1st November, 2015 | By Jeremy Girard | Category: Marketing and Trustcasting
Is Your Brand Ready to #OptOutside? How to Follow REI's Bold Leap into Customer-Centric Marketing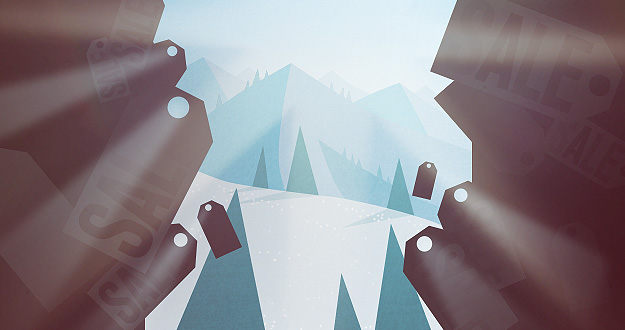 For many retailers, the day known as Black Friday has become one of the most important dates on their calendar. Last year, shoppers in the US spent just over $9 billion on the day after Thanksgiving, counting for a sizable percentage of many stores' holiday sales. This is why it was so surprising when outdoor equipment retailer, REI, announced that they would be closing all 143 of their stores this Black Friday and encouraging their employees and customers to #OptOutside instead.
It remains to be seen if this bold move on the part of REI will make a dent in the company's sales over the entire holiday period or if they will make up the difference elsewhere. What we do already know is that the early reactions to this decision have been extremely positive and there are some valuable lessons to be learned from this campaign from REI.
Customer-centric marketing is still marketing.
Make no mistake about it, this decision by REI is marketing. They have an entire section of their website dedicated to this #OptOutside idea and they are encouraging others to join them and to "tell the world." A company does not take these steps for a simple announcement of a change in store hours. You go to these lengths for a marketing campaign.
The fact that this is a marketing campaign should in no way take away from what REI is doing with this idea. They are voluntarily skipping out on one of the biggest shopping days of the year in order to do something that will benefit their people. Not only are they losing out on the sales from that day, but they are paying their employees to head outside! So this day is costing the company in a number of ways.
Yes, this is marketing, but that does not also mean it is not an amazing and honest decision by this company. Marketing does not need to be a shady or deceptive thing, it simply needs to shine a light on your company. If you can do that while also doing something positive, that is a win-win situation.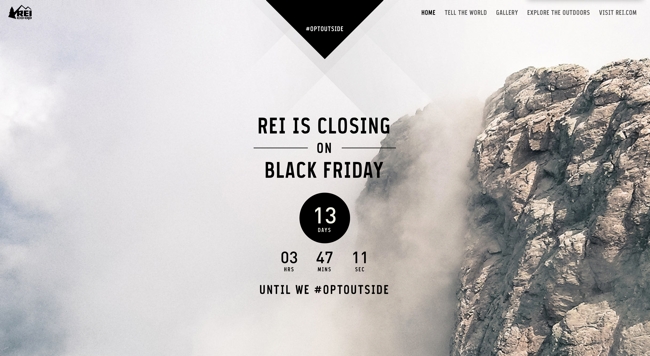 Stay true to your ideals.
The main reason why this campaign from REI is so perfect is because it is absolutely in line with the company's overall ideals. This idea makes sense coming from REI in a way that it would not if it was being done by Wal-Mart. That is not a knock on Wal-Mart, it is just the simple truth that this kind of a campaign would not be on brand for that retailer, while it is for REI.
When planning your own campaigns, remember to remain true to your company's ideals and mission. No one likes marketing that feels disingenuous, so by being true to who you are, your efforts have a much better chance of being well received.
Make the hard decisions.
On-brand or not, this decision could not have been an easy one for REI to make. There is no way to deny the fact that they will lose sales by closing the store on Black Friday. Still, they made the hard choice to follow through with this initiative anyway. That is an important lesson.
Doing something new and unexpected is rarely easy. Sometimes it can be really, really hard. If you have thought through your plan and decided that it is the right direction for your company, you will need to make that hard decision and press forward.
Depending on the structure of your company, making hard choices may require buy in from multiple people. Have these discussions and evaluate all the angles, but in the end, do not allow a hard decision to prevent you from making the right decision.
Do the opposite of your competition.
REI's decision to shut their doors on Black Friday is so surprising because it is the exact opposite of what other stores are doing. Other companies are expanding their hours of operation, with many of them opening on Thanksgiving to get a jump on the shopping frenzy. A company that stands up and decides to take the exact opposite approach of what everyone else is doing gets noticed.
When planning your own marketing or promotional ideas, look to what your competitors are doing and think about how you could turn the entire situation on its head. Dare to be wildly different and take the opportunity to show the world how you are different from your competition and why that should matter to them.
Taking a unique approach can be incredibly powerful, especially in the world of the Web where everyone seems to be playing a game of "monkey see, monkey do" and just rehashing the same old campaigns and approaches over and over. If you want to break that mold, you can start by moving in the opposite direction of everyone else.
Tell the world.
The best marketing idea in the world will fail if you do not share that idea with the world. You need to promote your campaign so it reaches your customers and potential customers. In the case of REI, they didn't just put a small sign on the doors of their stores to let customers know about their Black Friday plans. They shot videos, made a website, and created a whole campaign around their #OptOutside hash tag.
When planning your marketing campaigns, be sure that you couple a great idea with a strategy to communicate it effectively. REI has done this perfectly and the incredibly positive reception they have received from people fed up with the ridiculousness of Black Friday has helped propel this campaign even further. All the while, people are talking about REI in a powerful and positive light. Yes the company may lose some sales on Black Friday, but what they are gaining in terms of public perception and promotion is priceless!
Have a plan.
In addition to communicating what you are doing with the world, you should also have a plan to capitalize on the results. REI is not stupid, they know that the business will still come and I fully expect them to run sales the rest of that Black Friday weekend. People who appreciate what the company has done for their employees and customers may make it a point to shop with them that weekend as a show of support. In the end, the company may even make up those lost Black Friday sales that weekend or over the course of the holidays. This has to be part of their ultimate plan – to do something positive and different while also positioning it in such a way that they will be able to recover anything that may have been lost. It's a great plan for all involved.
In summary
REI took a bold stand in their efforts to break away from what every other retailer is doing with their Black Friday promotions. Instead of fighting for attention on that crazy shopping day, they have decided to take a different route. Because they stayed true to their ideals, made some tough decisions, and were unafraid to shake things up and be different, they are the store that people are talking about leading up to Black Friday, which is interesting since they are the only ones who will be closed that day.

Jeremy Girard
Jeremy Girard has been designing for the web since 1999. He is currently employed at the Providence, Rhode Island-based firm Envision Technology Advisors and also teaches website design and front-end development at the University of Rhode Island. In addition, Jeremy contributes regularly to a number of websites and magazines focused on business and the Web, including his personal site at Pumpkin-King.com.