Tuesday, 2nd March, 2010 | By The Author | Category: Website Design and Development
Jacob Gube: Simplifying the Formula for Success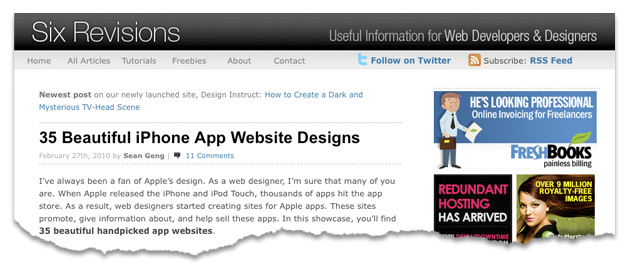 The secret to the success of Six Revisions is, in fact, not a secret at all. They have a singular purpose – providing "Useful Information for Web Developers & Designers" – and they serve it relentlessly.
This straightforward, no-frills approach with an emphasis on quality, comprehensiveness and usefulness is exactly what drives the popularity of Six Revisions. The site has cemented its reputation among the development and design community for publishing consistently exceptional content written by talented professionals who not only practice but have a true passion for their craft.
Recently Fame Foundry had the opportunity to talk with Jacob Gube, Six Revisions' founder and chief editor, about what it takes to build a community around content, what he's learned along the way and what lies ahead for the Web and web development.
FAME FOUNDRY: Please tell us a bit about your professional background. How did you get your start as a web developer?
JACOB GUBE: I got started as a web developer by doing freelance graphic design work. It was something that just fell into my lap. Companies that I did design work for frequently also needed a website, and they'd often ask me, "Do you know someone who can get a website up for us?" Not wanting to miss out on an opportunity, I'd say, "I'll give it a shot!" And that's how I got my start.
FAME FOUNDRY: What was your first big web development project?
JACOB GUBE: In terms of scope, the first big web development project I had was for a company called Eclipse Window Tinting. They offered car window-tinting services and wanted a Web presence as a way to drive traffic to their store. The site had a MySQL database for providing estimates based on car make and model, year and window tint type with a simple web app that calculated the price. It also featured an image gallery of cars they'd tinted using the original Lightbox script to open large-scale images inside a modal window after clicking on its thumbnail, which was still pretty fresh and new at the time.
FAME FOUNDRY: What do you love about web development? Is there anything about it that you don't enjoy?
JACOB GUBE: I love the idea of being able to reach people who have an Internet connection with the products that we create. It doesn't matter whether they're just next door or thousands of miles away, they will still be able to interface and use the things we make.
I can't think of one thing that I don't enjoy about web development. Maybe supporting old browsers like IE6, which can be frustrating at times.
FAME FOUNDRY: How did Six Revisions come into existence?
JACOB GUBE: It came into existence on a whim. I was just coming off a failed start-up for a blog that would discuss news and reviews of technology gadgets – sort of like Engadget. It failed because we didn't really have a passion for the subject, so producing content was difficult. That experience taught me one of the biggest lessons I've learned about business: in order to be a successful entrepreneur, you have to believe in and have passion for your product.
I started Six Revisions a few weeks after that experience. I just woke up one day itching to start a blog. I asked myself, "What am I really good at? What can I write about and never be bored of?"
By the end of that day, I had a site about web development and design up and running, a domain name secured and my first post published.
FAME FOUNDRY: What was your goal when you started out? Did you aim for this level of popularity, or did it begin as more of an outlet for your personal interests?
JACOB GUBE: Six Revisions was never about popularity, subscribership, page views or profit margins.
It was a personal side project – an outlet for me to share the things I learned while working as a professional web developer. I didn't expect people would even read the site, but I guess they liked what I had to say and kept coming back.
FAME FOUNDRY: What is the origin of the name?
JACOB GUBE: In graphic design, you usually have rounds of revision after you produce a design for a client, so that's where "Revisions" came from. Web developers and designers often have to go through these revision cycles as well. The number "Six" is arbitrary; it just sounded good to me at the time. I didn't spend too much time picking out a name. I wanted a site up.
FAME FOUNDRY: What were some of the influences that helped you shape the site?
JACOB GUBE: I'd say, of course, the only real design blog out at the time, which was very popular then and still continues to be today, Smashing Magazine. My earlier work, though, was influenced greatly by Samuel Ryan's Wake Up Later as well as Lifehacker.
FAME FOUNDRY: How did you know that Six Revisions was going to be big?
JACOB GUBE: I didn't know Six Revisions was going to be big. I hadn't anticipated for the growth, and I was ill-prepared. In the beginning, I had to move web servers five times in a span of maybe three months because the demand kept increasing, and no host could withstand the type of traffic the site was getting.
That's why my newest web start-up, Design Instruct, had a much longer planning phase and better infrastructure that scales as the demand goes up. Design Instruct is the fruit of my two years of experience with Six Revisions. Couple that with an amazing business partner, my brother Isaac Gube, and we've witnessed growth much faster than Six Revisions.
FAME FOUNDRY: Was there any one moment or event that you attribute as your "big break"?
JACOB GUBE: Our big break was being featured on Digg for the first time. That took our traffic and subscribership from basically zero to a very sizable amount. If I were to pick one single catalyst that took Six Revisions from a hobby to a company, it'd be the Digg community. You can see how much I value Digg by looking at the layout of each post: the Digg button is the first thing you see on an article.
FAME FOUNDRY: How long did you wait for that first break?
JACOB GUBE:: I'd say I had to wait maybe one or two months.
FAME FOUNDRY: Did you ever get impatient or doubt your chances of success in the process?
JACOB GUBE: Here's the thing: I never really had any goals or milestones that I needed to meet. I don't think I have them now.
To me, when you build a product, all you have to do is work hard on it and let your passion show, and the rest will take care of itself. I didn't get impatient or doubt my chances because I had no aspirations to be successful.
FAME FOUNDRY: You've said that you prefer to let things grow organically in order to allow for creativity and flexibility. How has this played out over the history of Six Revisions?
JACOB GUBE: Letting things grow on their own has worked out really well for me. When you have your five-year goal-setting, your meetings about meetings, your team-building exercises and your drawn-out private beta testing, you're wasting the time that you could be spending on making your product better.
To me, building a website or web app is simple: You do it. Your users tell you what you need to work on, and you do that.
This mentality has played out very well with both Six Revisions and Design Instruct because when you start with a blank slate, you let your users shape your website. Any other development philosophy besides that is guesswork.
FAME FOUNDRY: What happens behind the scenes at Six Revisions? What is a typical day for you?
JACOB GUBE: I dedicate most of my time to the readers and the authors, both of which are what make the website what it is. The rest of the time is spent on making sure the site is running properly.
A typical day for me begins early in the morning because that's when I'm most productive. I do most of the creative work in the morning because I'm a morning person. Little time is spent on doing anything else: I'll quickly scan my inbox to see if there are any pressing e-mails that need my attention and respond to those. Usually, e-mails that I respond to in the morning are from authors or readers.
When my productivity and creativity are waning in the late afternoon, I do the administrative work – answering e-mails that I missed in the morning, accounting, site maintenance – all the tasks that you'd consider "boring."
FAME FOUNDRY: What are some of the challenges you see in running and growing an online magazine?
JACOB GUBE: The biggest challenge will always be the lack of time. There are many things you need to do but very little time to do them. You need to move quickly and make speedy decisions or else you miss your window of opportunity.
FAME FOUNDRY: Six Revisions has earned a reputation for great content. Where do you draw your inspiration from, and how do you channel that inspiration into content that is in demand among the design and development community?
JACOB GUBE: I get a lot of inspiration from just making websites. Many of the posts I write were inspired directly by something I was working on that day. For example, my post about clean and simple websites was inspired by working on the design for Design Instruct.
I feel that I have a good grasp on what designers and developers like because I am one, so I'm able to channel that inspiration into content that people enjoy reading.
FAME FOUNDRY: Is good content hard to come by?
JACOB GUBE: Good content is very hard to come by, especially in the field of web design and development. That's because being a great web developer or designer and being a great writer don't often come in one package. So when you find people who can do both, you try and hold onto them.
FAME FOUNDRY: What do you look for in good content for Six Revisions?
JACOB GUBE: My definition of good content is that which is well-articulated, provides solid arguments and is written by someone who's actually done the thing they're talking about. When you're inexperienced about the subject you're writing about, it'll show. You can spend a lot of time researching a subject, but unless you've actually done it, you won't be able to write about it as well as someone who has.
FAME FOUNDRY: For those aspiring to use great content to create a community around their brand, what advice would you give?
JACOB GUBE: You have to start publishing great content in order to get more great content. It's the only way you'll attract talented writers. When they see that you're publishing great stuff, they will want to be a part of that.
FAME FOUNDRY: You're well-known for your affinity for minimalism – a philosophy that is as apparent in your site as in your personal workspace. Do you feel this helps you from an organizational standpoint, a creative standpoint or both?
JACOB GUBE: Minimalism helps me in many aspects of my work and personal life. To me, a cluttered surrounding clouds your mind. You may not know it, but you might be feeling stressed or stifled because there's so much stuff around you.
When you live a life based not on how much stuff you have, but rather on how little stuff you have, you'll find that you have more time to spend on things that really matter.
From an organizational standpoint, you don't have a lot of stuff to organize to start with, so it's easy to keep things in check.
From a creative perspective, when you're comfortable and you're not bogged down by "stuff" in your environment, you can output some pretty cool work.
FAME FOUNDRY: Are you still active in web development, or is your time completely dedicated to the magazine?
JACOB GUBE: I'm very active in web development. I wouldn't be able to write about it effectively unless I was.
FAME FOUNDRY: How do you see the Web evolving in the next few years?
JACOB GUBE: In the next few years, I'm willing to wager that you'll see simpler and cleaner designs. I think everyone's had enough of the loud and bright-colored, 20-large-buttons-in-your-face web designs, so there will be a shift towards simplicity, cleanliness, and more thought-out user interfaces.
FAME FOUNDRY: How do you see web development evolving with mobile platforms and the iPad?
JACOB GUBE: I think the mobile web development industry is beginning to pick up. More and more web developers are thinking about engineering stuff for portability and mobility.
That's partly why I think simplicity will win in the next few years. Because of the current limitations of infrastructures, mobile designs need to be lightweight. They also need to be simple because the interface is limited by the controls and screen size.
FAME FOUNDRY: What are your future plans for Six Revisions?
JACOB GUBE: My only plan for Six Revisions is to continue the tradition of publishing great content written by great people. That's my one and only recipe for growth and success.
As the founder and chief editor of Six Revisions, co-founder and technical editor of Design Instruct and author of MooTools 1.2 Beginner's Guide, Jacob Gube provides both inspiration and practical instruction to thousands of peers in the web design and development community. He's also an active web developer and designer himself specializing in front-end and PHP development – work that fuels the success of his blogs as the source of content enriched by his depth of experience. Follow Jacob on Twitter @sixrevisions.

The Author
Great authors are defined by their ability to set fire to the written word. All too often in today's digital information age, that creative spark is stifled, leaving the Web littered with content that is lifeless and ineffectual. Fame Foundry's Author has made it his mission to revive the act of writing as an art form, harnessing the power of language to command attention and ignite a following. It's the difference between telling a story and building a legend.