Thursday, 1st April, 2010 | By The Author | Category: Fame Foundry News
Client Spotlight: Golden Star USA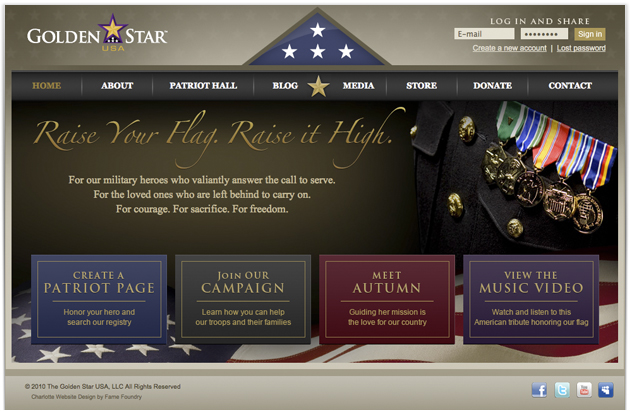 A community of heroes
If there is a guiding principle behind everything we do at Fame Foundry, it's challenging the status quo with innovative ideas and connecting people around those ideas.
With Golden Star USA, we set out to do just that.
Like any social media site, Golden Star USA offers a virtual space where people of like interests can gather. What makes Golden Star unique is its focus.
Golden Star USA is home to family and friends of service personnel representing all five branches of the military – the Army, Navy, Marine Corps, Air Force and Coast Guard – including active duty, veterans and fallen heroes. The site provides its members with a place where they can come to honor their loved ones, connect with others, share a story and recognize the sacrifices of all who answer the call to serve.
As a living, breathing community, Golden Star USA is a lasting tribute to those who are fighting for freedom at home and abroad as well as those who have made the ultimate sacrifice in service of their country. Unlike any statue or monument, it will continue to evolve and grow, bringing people together in real and meaningful ways.
The Patriot Page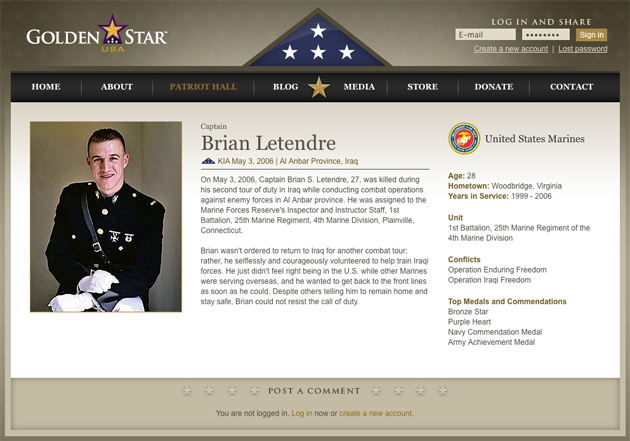 Registered users can create a Patriot Page in honor or memory of any member of the U.S. Armed Forces, past or present. This page provides a showcase for the honoree's record of service and commendations as well as a forum where friends and family can share their memories and stories by posting comments.
The Patriot Hall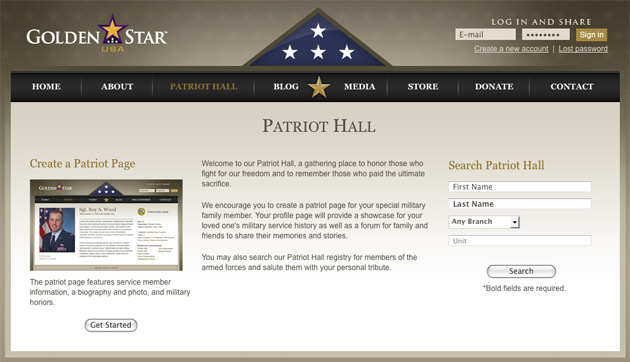 Collectively, all of the Patriot Pages comprise the Patriot Hall, a living monument to those who have served in conflicts over the past century. Visitors to the site can search the Patriot Hall to find a member of the Golden Star registry by name and unit, salute them with a personal tribute on their Patriot Page and read posts contributed by other members of the community.
Autumn's blog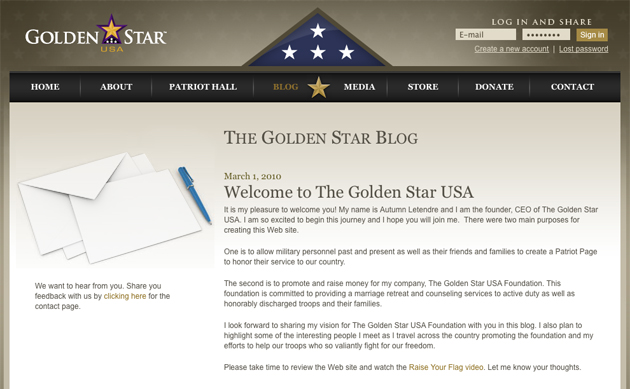 As founder and CEO of Golden Star USA, Autumn Letendre is driven to help others as a result of her own personal tragedy. Her husband, USMC Captain Brian S. Letendre, was killed in 2006 during his second tour of duty in Iraq, after he had voluntarily returned to the front lines as part of a special team training Iraqi army recruits.
On her blog, Autumn will chronicle her experiences as she travels across the country promoting the Golden Star USA Foundation and its mission to serve military families who are struggling with the same challenges she and Brian experienced during his deployments.
The music video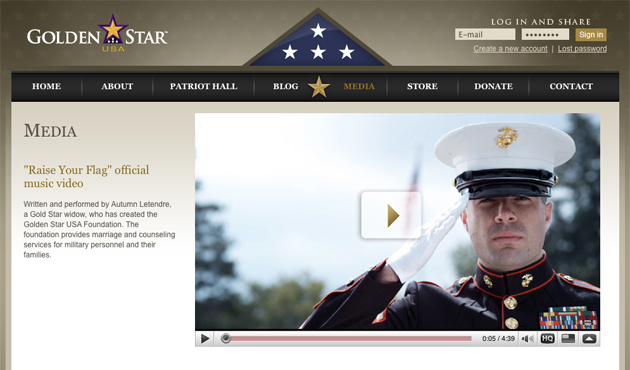 Written and performed by Autumn Letendre in memory of her husband, "Raise Your Flag" offers a message of inspiration to hold the flag, our national symbol of freedom, proud and high, with respect and honor for those who did not waiver in making the ultimate sacrifice.
Funding the mission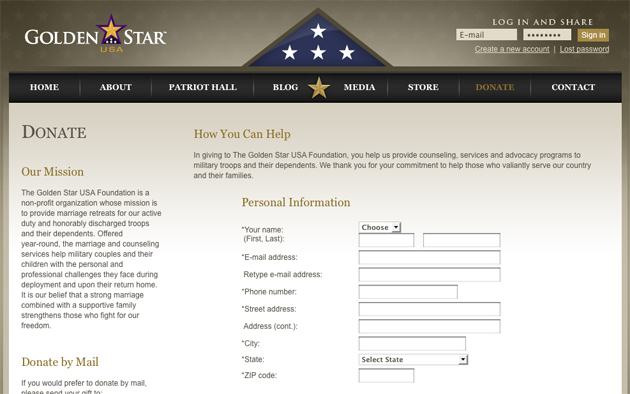 Visitors to the site can make a donation to The Golden Star USA Foundation. Contributions support the nonprofit organization in its mission to provide marriage retreats and family counseling services for active duty and honorably discharged troops.

The Author
Great authors are defined by their ability to set fire to the written word. All too often in today's digital information age, that creative spark is stifled, leaving the Web littered with content that is lifeless and ineffectual. Fame Foundry's Author has made it his mission to revive the act of writing as an art form, harnessing the power of language to command attention and ignite a following. It's the difference between telling a story and building a legend.