Monday, 31st May, 2010 | By The Author | Category: Fame Foundry News
Join Friends & Family of Military Service Personnel Nationwide in the Golden Star USA Community
Memorial Day is a time of remembrance for those who have made the ultimate sacrifice in service of our country. This year, with the launch of Golden Star USA, there is a new way to honor the courage and selflessness of all who have answered the call of duty.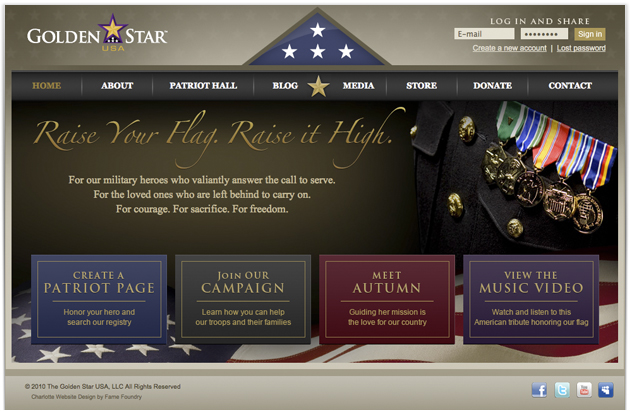 Golden Star USA is an online community encompassing family and friends of service personnel representing all five branches of the U.S. Armed Forces – the Army, Navy, Marine Corps, Air Force and Coast Guard – including active duty, veterans and fallen heroes.
By registering as a member of the Golden Star USA community, you can create a Patriot Page to honor the accomplishments of the hero in your life, showcase their record of service and commendations and provide a forum where friends and family can share their own memories and stories.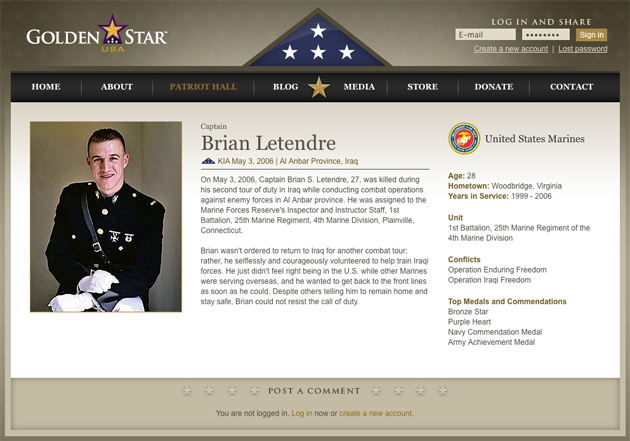 You can also search the Patriot Hall to find any member of the Golden Star registry by name and unit, salute them with a personal message on their own Patriot Page and read posts contributed by other members of the community.
The concept for the site was the product of a collaborative partnership between Fame Foundry and Autumn Letendre, founder and CEO of the Golden Star USA Foundation.
Autumn approached Fame Foundry with the goal of establishing a platform through which she could promote the foundation and its mission, which is to provide marriage retreats and family counseling services for active duty and honorably discharged troops. As plans for the site evolved, the two organizations realized the opportunity to go further with an innovative idea that would bring people together and build a community dedicated to the purpose of creating an enduring tribute to the men and women of our nation's military.
Autumn Letendre's drive to help others stems from her own personal tragedy. Her husband, USMC Captain Brian S. Letendre, was killed in 2006 during his second tour of duty in Iraq, after he had voluntarily returned to the front lines as part of a special team training Iraqi army recruits. Now as a Gold Star widow, she is dedicated to advancing the mission of the Golden Star USA Foundation to serve military families who are struggling with the same challenges she and Brian experienced during his deployments.

The Author
Great authors are defined by their ability to set fire to the written word. All too often in today's digital information age, that creative spark is stifled, leaving the Web littered with content that is lifeless and ineffectual. Fame Foundry's Author has made it his mission to revive the act of writing as an art form, harnessing the power of language to command attention and ignite a following. It's the difference between telling a story and building a legend.