Friday, 1st October, 2010 | By The Architect | Category: Public Relations and Social Media
Flex Your Expertise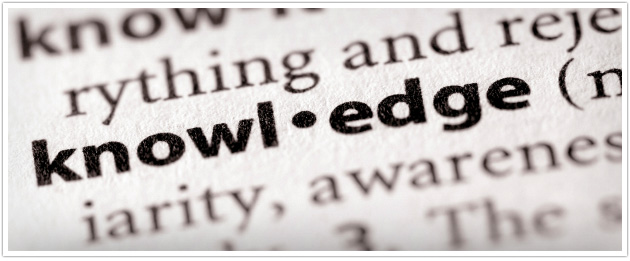 As one charged with growing a business, there is undoubtedly always one question lingering in your mind: where's my next lead going to come from?
Would you believe that sharing just a few minutes of your time and your expertise each day could inject new life into your sales pipeline?
The answer is Answers – that is, LinkedIn's Answers forum.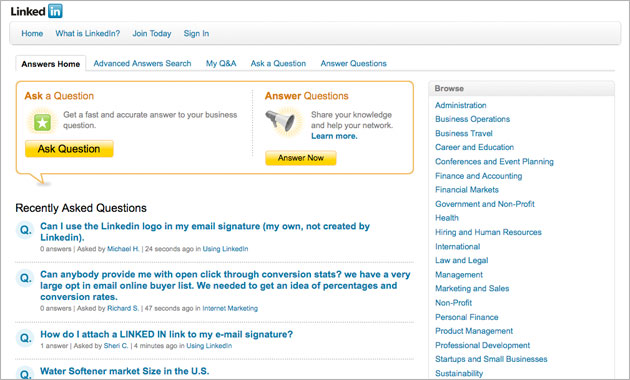 Designed as a platform for professionals to exchange expertise, this lesser-known feature of the LinkedIn network can be found under the "More" menu options in the top navigation bar.
If you already have a LinkedIn profile, using the Answers forum to attract new leads is easy as 1-2-3:
Step 1: Do your homework.
As with any social media network, it's important to get a feel for the lay of the land before you dive right in, so invest time up-front familiarizing yourself with the LinkedIn Answers forum community.
A good place to start is by perusing the leaderboards of top experts in the categories that relate to your business.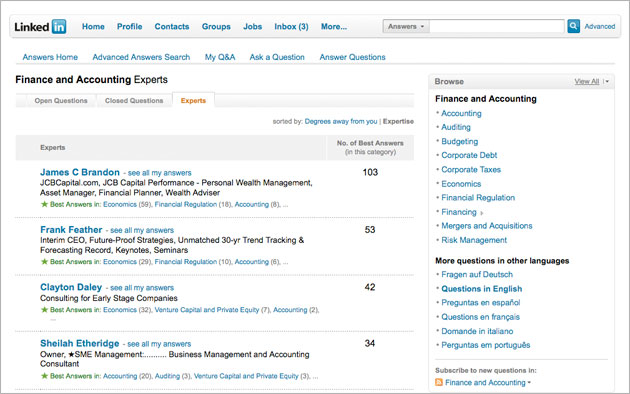 Click the "see all my answers" links next to these members' names, and look for commonalities among the answers that were chosen as best. You might even want to test the waters a bit by asking a good question or two so that you can gage the type of responses you receive.
Also, if it's been a while since you established your LinkedIn profile, now's the time to dust it off and give it a polish. When you become active on the forums, it's likely that many new people will click through to your profile to qualify your expertise.
Make sure you deliver a strong first impression by reviewing each area of your profile to confirm that it is complete and up-to-date. Sharpen the language you use to describe your experience and specialities so that it is precise and powerful. If you're active on Twitter or you have a blog, you can even add applications that will automatically publish your latest tweets and links to your most recent posts on your profile.
Step 2: Turn on your radar.
Once you feel comfortable with the inner workings of the Answers forum, it's time to start looking for opportunities to participate. Questions posted on the forum are divided into categories, from administration and business operations to sustainability and technology, and these broad topics are further subdivided into more specific areas of interest.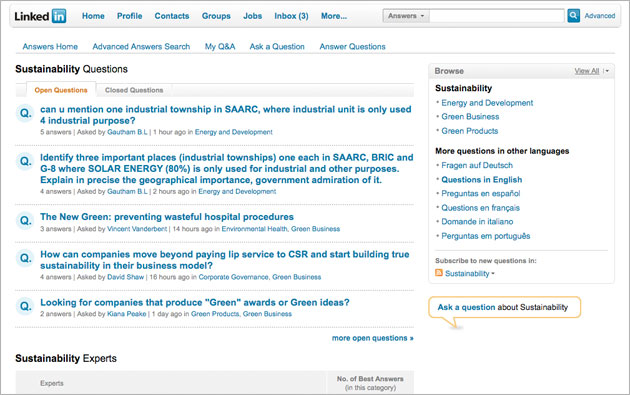 Don't try to keep tabs on every question asked. Instead, focus your efforts on the categories that are most closely related to your areas of expertise and where your prospective customers would most likely be active.
A great way to streamline this process is by subscribing to the RSS feeds for your chosen categories and setting up a folder in your reader of choice where they can be collected in one location. Rather than having to waste time every day clicking around the forums to browse each category of interest to you, questions will be delivered directly to you in real time. All that's left for you to do is make a quick, efficient scan of your feeds folder once or twice a day to find a few open discussion threads where you can contribute helpful, practical advice.
Step 3: Share your expertise.
When you identify a question that presents an opportunity for you to add something meaningful to the conversation, simply click through to the corresponding discussion forum page, hit the yellow "Answer" button, compose your response and submit.
There's no need for a hard-hitting sales pitch. Just talk about what you know with ease and authority.
As is true throughout the social media universe, be authentic and allow your personality to shine through in your answer. While you'll want to be conscientious of your spelling and language and maintain a professional demeanor, your response should come across as friendly counsel from a trusted advisor, not an encyclopedia entry. Imagine that the person who asked the question is standing right in front of you, and keep your answer conversational in tone and free of off-putting technical jargon.
Be generous with your expertise, and don't fret about giving away inside secrets. By demonstrating your depth of knowledge and familiarity with the subject at-hand, you'll boost your chances of someone seeking you out to continue the conversation one-on-one.
The more personalized you can make your response, the better. Take a few extra moments to review the profile of the person who posted the question. Use the information available to you to custom-tailor your response to their needs. You'll score extra points if you can give a specific example that is relevant and useful to them in their industry or job position.

You can also supplement your answer by including links to other web content that might be helpful to anyone who would like to explore the subject further. If you publish a blog, this is an excellent opportunity to link to posts that offer more information about the topic in question.
While there is an option to reply privately to the LinkedIn member that asked the question, it will serve you better to post all your answers publicly. By making your response available to anyone who might be interested in the same topic, you'll maximize your exposure to prospective customers and increase the likelihood of reaping good leads from your efforts.
Elevate your profile
As you continue to contribute to the community, your efforts will begin to compound themselves.
As an active participant in the Answers forum, you'll elevate your visibility on LinkedIn and gain exposure to members who might otherwise have never had occasion to encounter your profile. Over time, if you consistently provide authentic advice that is sound and not self-serving, you'll develop a reputation as an expert in your field. People will reach out to you based on the depth of your knowledge and the generosity of time and attention that you demonstrate in your answers.
Moreover, when one of your answers is selected as best by the member who posted the question, you'll receive special recognition on your profile as an expert in that category.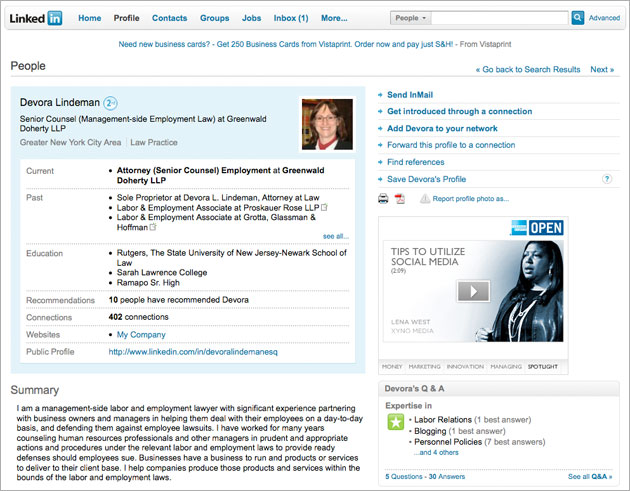 This is a great form of peer validation – an invaluable commodity in any online community. The more best answers you earn, the higher you'll appear on the leaderboard of experts in your category, giving you an added boost of credibility.
Do yourself a favor and check out the LinkedIn Answers forum today. With over 75 million LinkedIn members worldwide, you won't run short of potential leads anytime soon.

The Architect
Behind every superstar website there is an architect, scrutinizing every single detail, cutting through the nonsense, and challenging every aspect to craft a masterpiece that gets noticed and gets results.