Saturday, 4th December, 2010 | By Jeremy Hunt | Category: Public Relations and Social Media
Jumping Into Jumo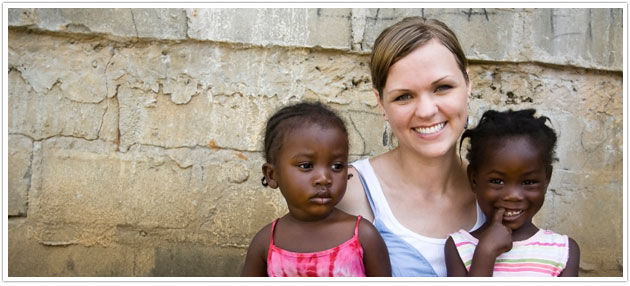 New social media platforms seem to crop up and die out (or get bought out) with regularity in this day and age. Whereas the social media map used to consist primarily of MySpace and Facebook (and Friendster if we're feeling generous), now there's Twitter, YouTube, LinkedIn, Tumblr and Wikipedia, just to name a few. With stories of upstarts like FriendFeed or Lala getting swallowed up by the big guns in the business, it's a landscape that's constantly changing.
But the great thing about this open environment is that it isn't a zero-sum game, as Facebook's Mark Zuckerburg put it at the Web 2.0 Summit 2010 a couple of weeks ago. As a result, while it's a noisy scene, the best "artists" making the best "music" rise to the top and get noticed.
The newest kid on the block
Which brings us to Jumo. The latest project from Facebook co-founder Chris Hughes, Jumo is a new attempt to merge the burgeoning movement for social change with the power of social networking itself.
While social change and humanitarian efforts have existed in many formats (with varying degrees of success) on the Web, Jumo's concept is centered upon fostering a deeper interaction with issues and causes. By focusing on the heart of what drives people to get involved in generous giving and living, Jumo is banking on helping charities and nonprofits connect with potential supporters.
The point of connection is not the "ask," whereby a nonprofit initiates their relationship with you by requesting a donation. No, Jumo takes a few steps back to first ask, "What is it that you're passionate about?". From there, the site connects you with organizations that are working in related fields.
In other words, the relationship that you develop with a charity begins organically with a question of the heart, not a question of the wallet. The end result – financial support – might not be that dissimilar, but the means are profoundly different. Jumo's approach could mean the difference between creating a one-time giver and inspiring a life-long supporter who not only gives but actively recruits others to join the cause through their heartfelt passion.
Why Jumo matters
What does this mean to you as an online citizen?
The Jumo model is important because there are lessons from this approach that apply to us all. Whether you're running a business or a charity, your interactions – both online and in-person – with your clients are what ultimately drive the machine. You might have the coolest product or the most moving cause in the world, but if you're not taking care of your customers or donors, you won't last long.
While on one hand, social media has made it easier to keep people at arms-length behind the safety of a computer screen, it's also helped to remind us all of what's important in the social realm: relationships. Without them, you're sunk.
The nuts and bolts
So how does it all work? It's quite simple, really.
Step one is signing up for an account, which unsurprisingly starts with a prompt to connect to your Facebook account.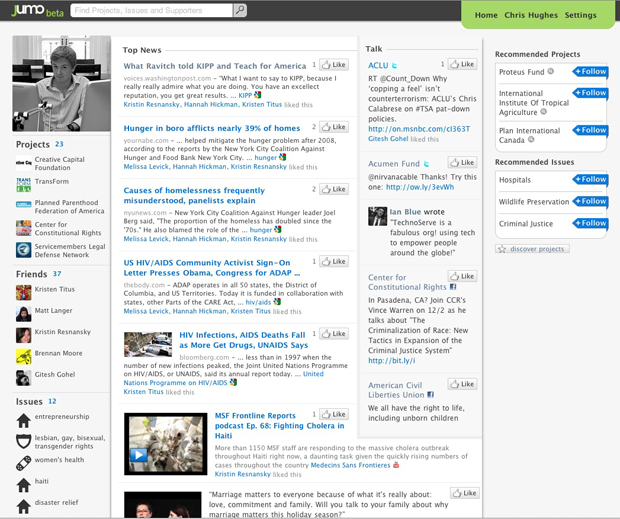 Next you create your profile, with Jumo pulling in your profile picture and basic personal information from Facebook. From there, you review a list of core issues and causes, including poverty, peace and governance and human rights. Each topic leads you further down a path of discovery that ultimately ends in a list of specific organizations that are doing work in the fields that you've selected.
Once this process is complete, your Jumo home page will be generated. This page features an aggregated news feed from the projects that you have chosen to follow. You'll also have a sidebar with suggested projects and issues that might interest you as well as a "Talk" column that reflects updates from all projects, issues and people with whom you're connected.
If all of this sounds familiar, that's because it is. The format and terminology will be second nature to anyone who's already on Facebook and Twitter. That familiarity should be a strength for Jumo moving forward, as it makes the new environment easy to get used to.
It's also fairly easy to add a new organization or project on Jumo; the key is that you must have a valid Employer Identification Number (EIN) as a 501(c)(3) nonprofit entity. Beyond that, it's a simple process of plugging in basic information such as your organization's mission and links to your website.
Again, Jumo presumes that your organization has already established a Facebook Page, as it will ask for your Facebook ID number to pull a profile picture in for your new project. From there, it's up to you to connect with individual users on Jumo, though the platform aids the process by allowing you to select the same topics of interest of as an individual, only this time the selections will help to define what your project is.
A step in the right direction
Only time will tell if Jumo will actually reach the lofty goals that its creators have set forth, but it so far it seems to be off to a promising start.
The interface is easy to navigate, but the site has been plagued by performance issues due to an overwhelming amount of traffic in its first few days of beta launch. The team is working to alleviate those problems, and hopefully, once fully launched, any minor issues will be resolved so that users can get down to the business of changing the world.

Jeremy Hunt
Jeremy Hunt is a writer, communicator and social media grunt who lives in Charlotte, North Carolina. He currently serves as the manager of corporate social media for Novant Health. Keep up with all that he finds cool in the world at jeremyhunt.tumblr.com or follow him on Twitter: @jehuthehunt.