Sunday, 4th March, 2012 | By Kendra Gaines | Category: Website Design and Development
Bridging the Gap: How to Integrate Social Media Into Your Website
Your website is the home base for your company. It's where you turn visitors into leads and prospects into paying customers.
Social media sites are outposts for your company. They're where you go to find your customers and prospects and maintain an ongoing dialog with them in the places where they live online.
All too often, however, companies treat their web development and social media efforts as separate and distinct initiatives when, in fact, they should be working together seamlessly to promote the growth of your business.
Here's how to maximize your online exposure by bridging the gap between your home base and social media outposts:
Start with the basics.
Make sure you have obvious links to every social media site where you maintain an active presence in a prominent location on your website. The header or footer is a good spot for these links because they then become a universal element of your website that every visitor will see no matter which page they might happen to land on first, last or in between.
You don't have to use the standard logo for these social media sites, either. Instead, you can style these buttons in ways that reflect the look and feel of your own site.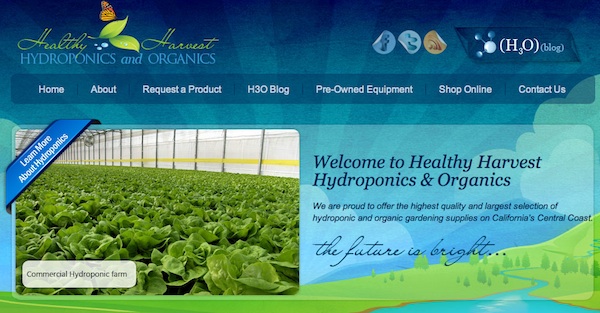 Keep in mind, too, that the point of these links is to entice web visitors to "like" or follow you on these social media networks so that you can continue your conversation with them long after they've left your site. Therefore, it's important that you include links only to those sites where you maintain an active presence. Don't add a link to any site where you are not a frequent participant because there will be no incentive for that prospective customer to want to continue engaging with you on that platform.
It's also smart to have these links open in a new tab so that you don't risk losing your hard-earned visitor to other distractions on Facebook or Twitter.
Empower your advocates.
Today's culture of the Web thrives on people finding great stuff and passing it along to others.
Make sure it's easy for your customers and fans to share the stuff they like on your site with their own circles of friends and followers.
Again, use some discernment here and don't include sharing options for every social site ever invented. Just pick a few key options like Facebook, Twitter and Google+ so that these buttons can be large enough to be easily seen.
Also, don't plop these buttons on every page. Make sure they're present on every product page and blog post. But what are the chances someone is really going to share your About or Contact page with the world?
Finally, pay attention to how links look when they're shared. For example, Facebook's API displays page titles and meta descriptions for shared links, so make sure these elements that live in the underpinnings of your site are formed strategically so that the shared content is presented in the most advantageous way for your brand.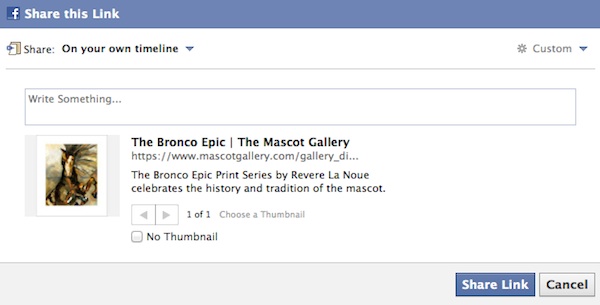 Use social media to feed your website.
If you regularly use social media networks to keep your customers and prospects apprised of special promotions or events, you might consider plugging a Facebook Like Box or Twitter widget into your website.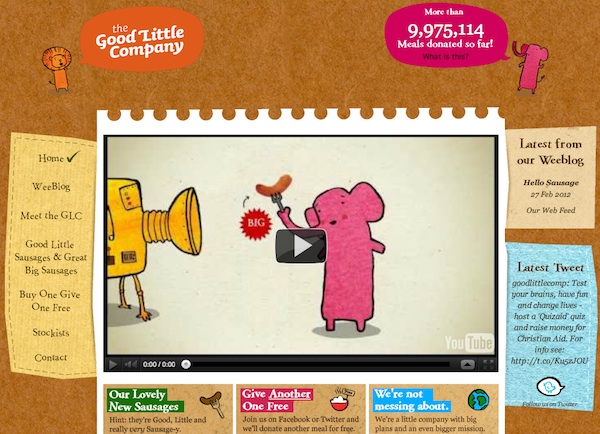 However, don't exercise this option just because it's there and it's trendy. Think carefully about whether the content you share on Facebook or Twitter actually pertains to and is appropriate for your average website visitor.
Also, while it's almost always best for your blog to be an integral part of your own website, if you do maintain your blog on a third-party platform like Blogger or Tumblr, make sure you pull an RSS feed from your blog into your website so customers can discover your great content.
Get visual.
If you have a helpful how-to video or a series of photos from your latest event that you want to feature on your website, consider posting them to social sharing sites like YouTube or Flickr and embedding them in your site from there.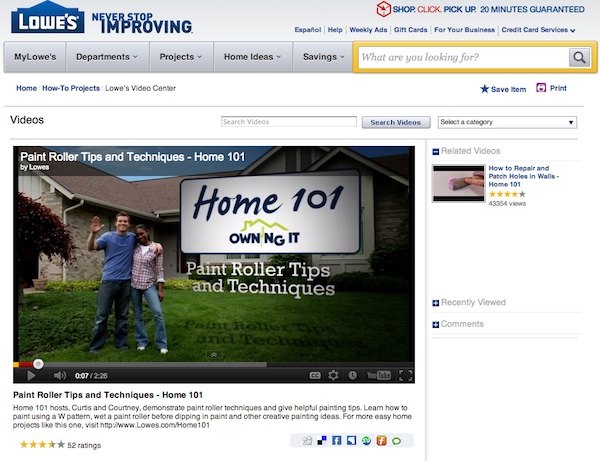 This approach makes your content accessible to the millions of users who search these social platforms for videos and images, making it that much easier for potential new customers to discover your website and your brand.
For example, Pink Cake Box, a gourmet cake shop located in New Jersey, reports that about 10 percent of their website traffic each month comes from Flickr, where they regularly post photos of unique cakes.
Just make sure when you post your photos or videos that you include a link back to your site in the description so users have a clear path to reach your home base.
Get social with service.
It's standard practice to give your customers the option to contact your company via an email address or by submitting a form on your website.
However, many companies are now encouraging customers to get in touch via Twitter or Facebook as well.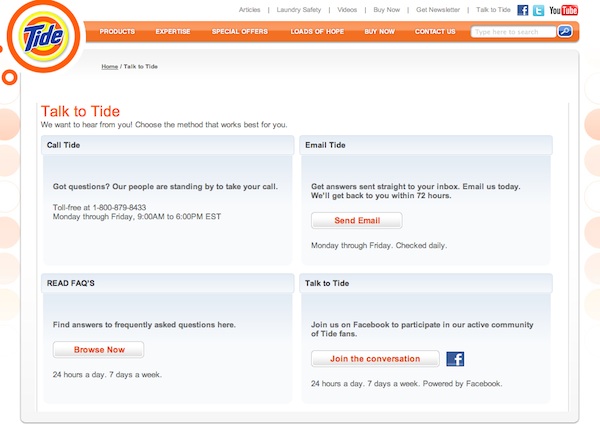 There are several benefits to this approach. First, it gives the person who wants to reach you a quick, convenient way to do so. It also gives your company the opportunity to field both praise from happy customers and complaints from dissatisfied buyers in the public eye.
While you might be nervous about the idea of having complaints aired publicly, consider this: these people are going to be talking about you anyway. It's best to give them an outlet to do so in a way that allows you to provide a positive resolution to the problem at-hand while demonstrating to the world that your company cares about your customers and is dedicated to providing the best possible experience for them.
If you go this route, just make sure that you're prepared to monitor and reply to any communication directed at you via social media right away. If a question or complaint lingers unanswered, it will reflect poorly on your brand. Also ensure that anyone who is tasked with responding behalf of your brand is well trained in how to handle any imaginable scenario in a way that demonstrates strong values and a commitment to providing excellent customer service.
By bridging the gap between your activities on social media networks and your own website, you'll create an even stronger promotion engine for your business that will help you capture and convert more customers.

Kendra Gaines
Kendra Gaines is a graphic designer based in Norfolk, Virginia, whose passion for creating transcends multiple mediums, including web, writing, and video. Check her out online at www.kgainez.com and follow her on Twitter @kgainez.