Sunday, 2nd May, 2010 | By The Author | Category: Fame Foundry News
Client Spotlight: Hospice & Palliative Care of Iredell County

For any nonprofit there is an inherent challenge in marketing that is not present in a for-profit business. For a hospice care agency, this challenge is even more pertinent. It is a delicate task that the tactics of traditional marketing – which are based in broadcasting messages to the masses – are not well-suited to accomplish.
Perhaps more than any other type of service, hospice by its very nature requires all efforts directed toward building and sustaining the business to be founded in cultivating, nurturing and becoming actively involved in the community around the brand.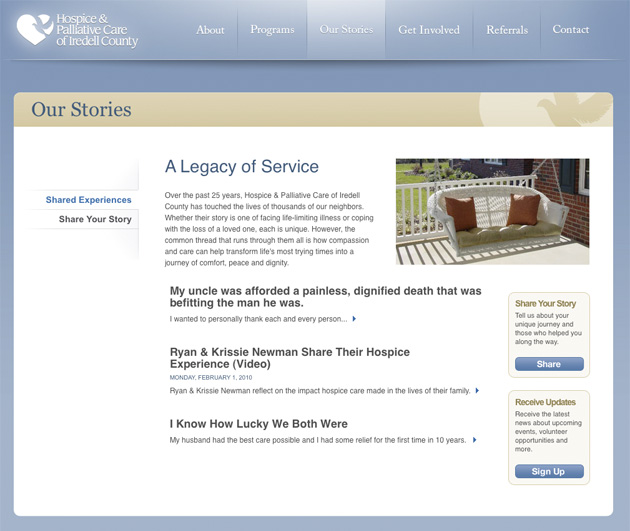 This is where trustcasting differs from the marketing institutions of old. Trustcasting is about people. It exists on a personal level and is grounded in honest, two-way conversation. While it is still important to tell the story of the organization, it is more important to tell that story in the greater context of the community it serves.
Fame Foundry partnered with Hospice & Palliative Care of Iredell County to develop platforms to help them advance their legacy of community involvement. These tools represent a long-term investment in the constant, ongoing process of building awareness and trust with an audience that will remember them if ever the time of need arrives. This is, in essence, a 360-degree approach to growth in which the community becomes an integral part of the organization and vice versa.
The new website sets out to tell the story of Hospice & Palliative Care of Iredell County and its passion for providing families with comfort, peace and hope in the most important times with their loved ones. The site also captures real people sharing their own experiences and their own passion for HPCIC with great candor and conviction.
The ultimate result is laying a strong foundation of trust within the community in a way that traditional marketing could never replicate, helping families who are in need of hospice feel at peace with the decision they are making.
To learn more about Hospice & Palliative Care of Iredell County, visit http://www.hospiceofiredell.org.

The Author
Great authors are defined by their ability to set fire to the written word. All too often in today's digital information age, that creative spark is stifled, leaving the Web littered with content that is lifeless and ineffectual. Fame Foundry's Author has made it his mission to revive the act of writing as an art form, harnessing the power of language to command attention and ignite a following. It's the difference between telling a story and building a legend.